Hi all,
Okay, so it's been approximately forever since I last blogged. My apologies, but if it makes you feel any better, my parents have heard about the same amount from me as you have. Life is insane!
So what have I been doing? Playing with horses, teaching lessons, trimming feet, going to playdays, giving first rides. All kinds of crazy stuff.
So, I guess the last time I thought about blogging, but didn't, was last weekend. My darling friend Jessica came down from Mosinee to spend the weekend horsin' around with the Pepin crowd. We played ponies, trimmed feet, and all around had a great time.
Next I went out to her place for a day, where we did her horse's feet, and then I went over to Anne's, trimmed Blixen, who proceeded to prance around like the little stud muffin he is. Anne says she's never seen him trot or canter after a trim before...we got an entire rodeo show! Amazing what can happen when heels are level and bars kept in check ;)
Last week was the week of insaneness. I had lessons every day except for Thursday, with Tuesday being my craziest, with 4 in one day. I'm really enjoying teaching these days, it's getting more and more fun as my ability to see things, especially tiny little subtleties (that make all the difference) improves.
Yesterday, I went to a demo/playday with one of my students. Since my student lives a distance from me (over an hour), I didn't bring Prin, but I took her little AraAppaloosa gelding, Elvis, to play with. Elvis is s a trip, because he's basically a Mini-Crest. At any rate, everyone played, and enjoyed connecting and hanging out with other savvy folks. Pics:
Me with Elvis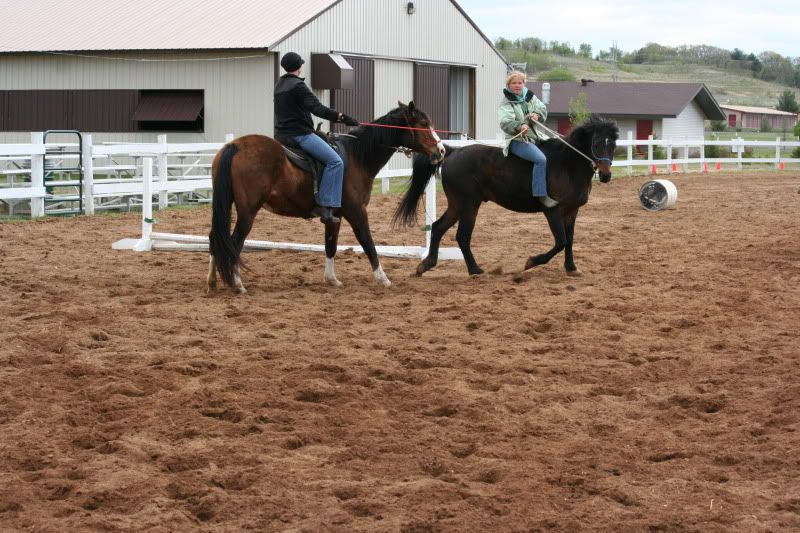 Matador/Mirror games-Me on Elvis, Jenifer on Mamma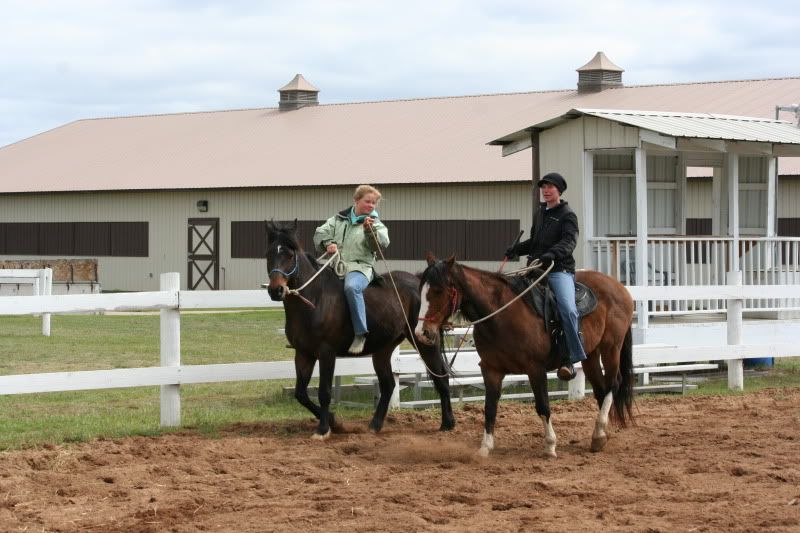 So...how good is YOUR squeeze game?
Jenifer and Mamma
About to backflip off. I landed on my knees, because El is so small, (14.2ish) it doesn't allow for much time for my feet to unfold--I'm used to Prin, who's 16.1-lol
This guy gave a Reining Demo and talk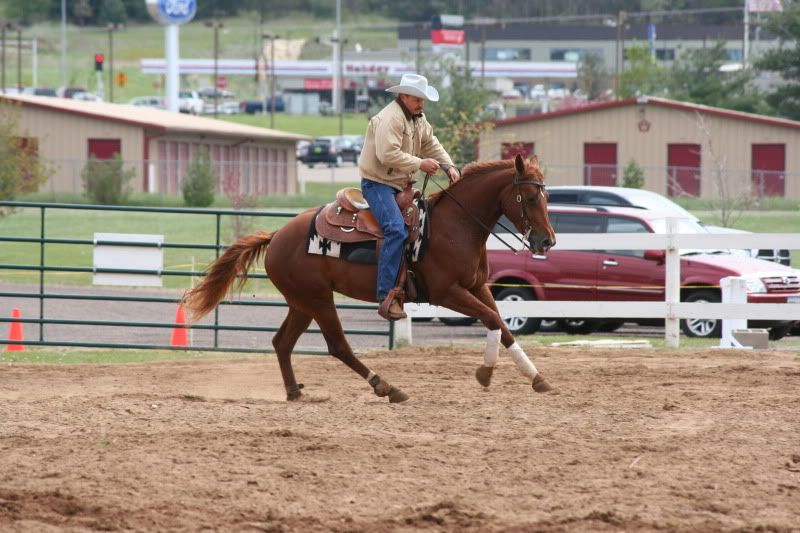 And he wonders why his horse is on the forehand?
Spinning--I had to chuckle, he was struggling to get a good plant in the hind, but kept leaning forward as the horse spun.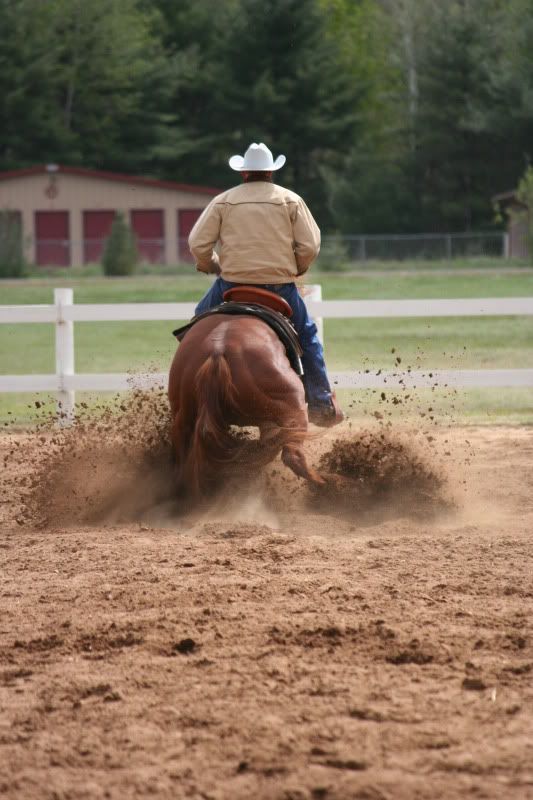 My personal favorite.
Standing.
Other than that, I've been at home, improving myself and my horses. I'm in the process of doing some intensive fluidity/saddle fit study, that I'll report on when I finish up.
Last night I had an...erm...interesting...session with both my girls. I took them out to start playing with some double stuff with them (the entire reason I got LB in the first place), only to find that number one, Prin is not thrilled about playing side by side with something 1/4 her size, number 2, Prin can sense "tired and cranky" a mile away, number 3, so can LB, and number 4, that DOES NOT END WELL! Hehehe. But, I did get some pictures, none-the-less.
First with Prin, Liberty in the big field (My mom's timing was about as awake as I was-lol):
Playing the Cutting game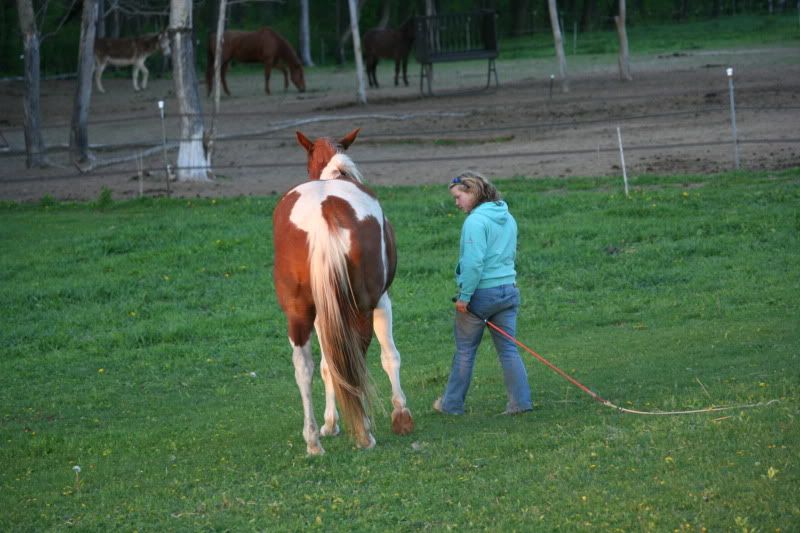 About to do a spin, actually.
Not entirely sure...by the looks of what my legs are doing, sideways?
Both of us on our HQ...cute.
And Now LB, in the Round pen, showing off her stuff-hehe
If it were any other horse, there'd be panic...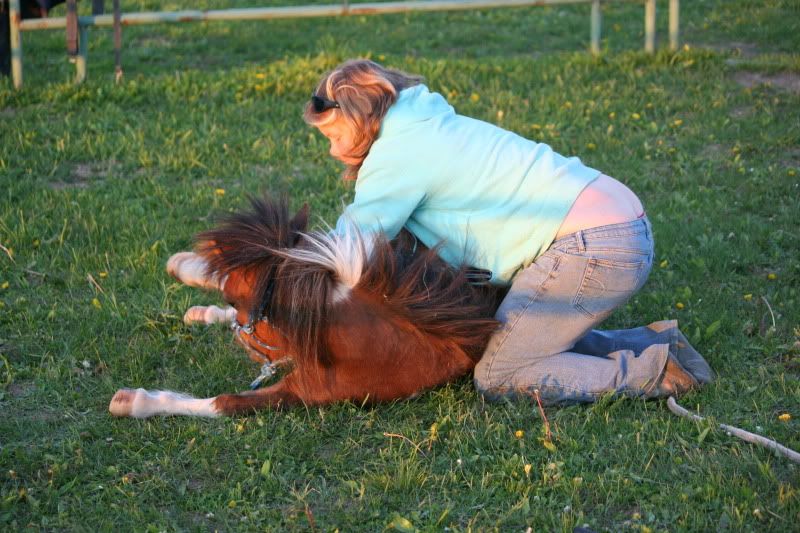 Lying down :)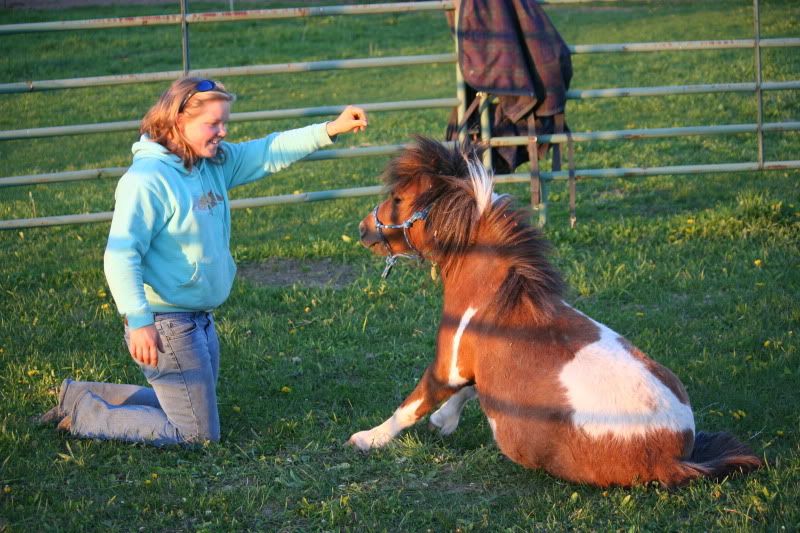 Sit! Farrah has seen this now, too, so I am officially a member of the Sitting Horse Tribe--yay!
She's learned to roll over and do this on command...SO FUNNY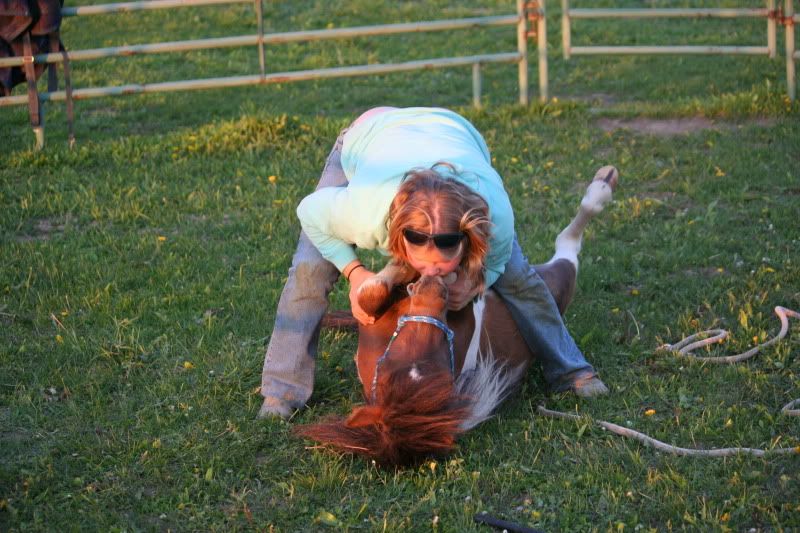 And...a kiss?
This week is shaping up to be about as crazy as last week, too. I have a lesson today, a couple tomorrow, at least 3, maybe 4 or 5 on Tuesday (schedule pending), one on Wednesday, and then on Thursday, Prin and I leave with Farrah again. We'll be with Farrah for about 5 weeks, and we'll be "touring the upper mid-west" so to speak. She's got clinics in IA, MN, and WI, as well as the Madison celebration and The Horse First grand opening, and I'll be tagging along in the role of assistant, which is always a grand time, a fantastic learning experience, and overall lotsa fun!
So, that's all for now, I'm not sure when I'll update again. Could be this week, or it could be into June. I'll be in touch, though!