BUSY BUSY BUSY!! EEK! It's been an insane couple of days for me. Katie arrived here on Thursday (YAY!) and we've been going almost non stop ever since. So, a quick update.
Friday morning we went to Chatfield and gave a lesson to Sandy, one of my students. I was introduced to her lovely mare Jazzy, who I had never met before. She's a hoot, very LBE innately I think, but due to a poor barefoot trim (Gotta have those bars!) she's hesitant to move for pain. We had a great all-morning lesson, then drove home, and Katie met my ponies. I did a little double demo (riding Prin, playing with Crest) and then I got to be fascinated as Katie played with Crest on the ground. Crest has never really been played with in a lesson format before, so I was REALLY proud when he taught her, and she was able to communicate with him! Proud mommy :)
Next, with some coaxing, Katie rode Prinny! Oh GOODNESS you should have seen the grin on both our faces! This was HUGE for her, the confidence boost must have felt incredible. I'm so proud that Prin was able to do that for her!
And, in other HUGE NEWS, two items, firstly, my BLUE STRING arrived yesterday. YAY! It's shiney and pretty.
Next, Franny's got a new addition to her herd! There's a really LONG backstory to this, horses have been exchanging hands a bit around here. For those curious, please email me, I'm too tired to write it all out tonight, but it is my great pleasure to introduce "LadyBug" (Name is DEFINITELY PENDING, IDEAS APPRECIATED) 2007 AMHR Miniature mare. She currently stands 29" tall, and will probably mature at about 32" or 33". She sits at a dead split between LBI and LBE on the chart, and I have yet to see an unconfident step out of her. She introduced herself to me by sniffing me, pawing my leg, then lying down next to me with her head in my lap. I mean c'mon, what's NOT to love? Any before anyone asks, I have financial stuff, etc, figured out, so this is not nearly as spur of the moment as readers of this blog may feel. I just didn't tell you ;)
Pix: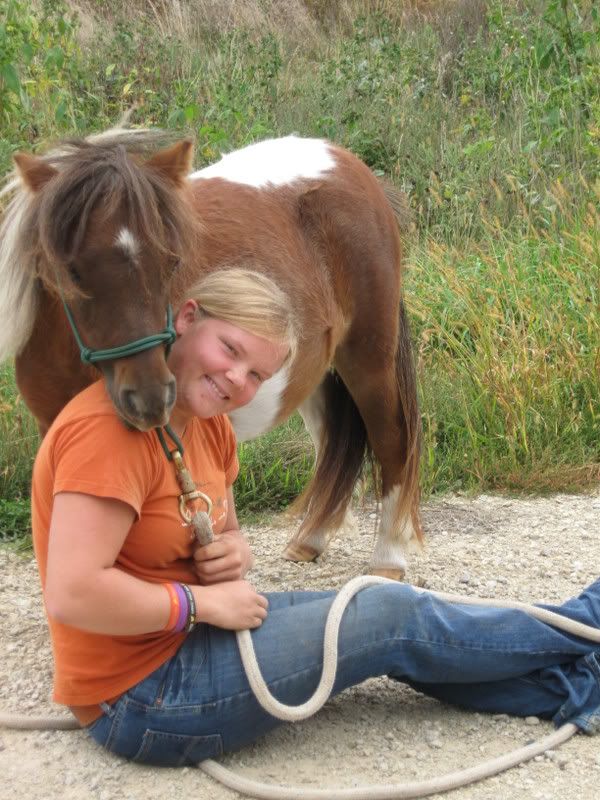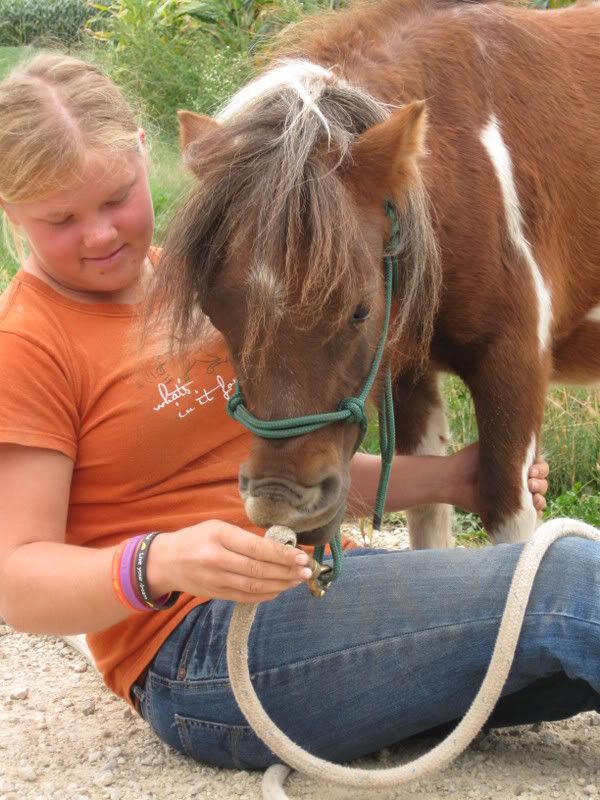 Oh nom nom :) She's VERY mouthy, she'll pick ANYTHING up with her mouth if you let her
Yoyo...or at least an attempt
LOVE IT...she's SO tolerant...and hilarious.
Whatcha think guys?