It's been a busy couple of days around Brown Coulee Farm...we've been hauling horses and shifting paddocks like crazy. I may have mentioned in an earlier blog (I seriously am so wiped out I can't remember squat) but I had two new geldings arrive for training over the past couple of days. So, here's the lowdown.
First horse:
Name: Scoot (I've taken to calling him Zoot Scoot Riot...)
Breed: APHA/AQHA
Gender: Gelding
Height: 15.1
Color: Red Roan, hind socks, and a blaze
Horsenality: RBE/LBE
Scoot is the first horse I brought over. We trailered him yesterday, which was an adventure, because neither he or his brother (will delve into that later) have seen a trailer before. Anyway, it took an hour and a half to load him, but I was expecting nothing less, and it was all done with savvy, no force, and he loaded confidently and cooly.
Anyway, after one play session (tonight) I have decided that Scoot is primarily LBE with an RBE reactive side. We learned the Principle games and some yoyo (yes Scoot, my space is MY SPACE!) Some things I've noticed so far:
-No respect for personal "bubble" whatsoever
-bothered by rhythm of any kind, though not an extreme problem.
-blocks approach towards zone 4 on the right side
-very playful/mouthy (picks up EVERYTHING in his mouth)
-EXTREMELY intelligent, learns within one or two attempts
-arrogant as all get out ("You just taught me something, and I learned, but hell if I'm gonna show it!")
Some Pix:
Staring at the herd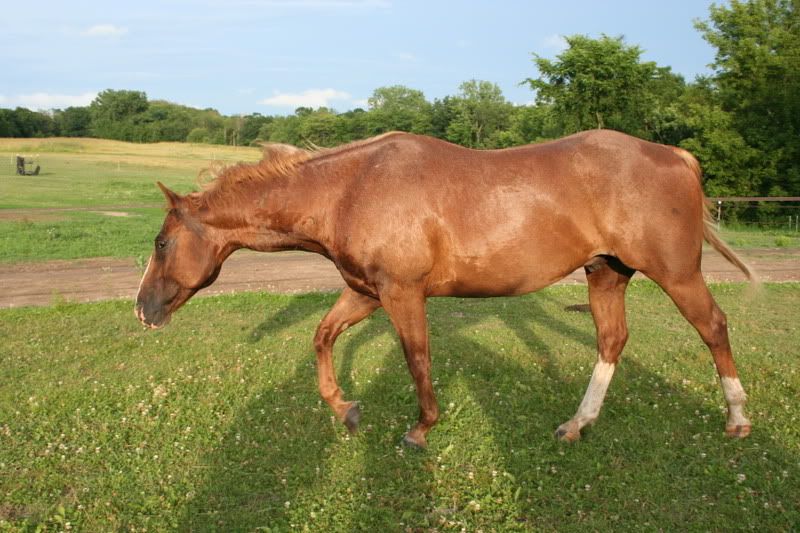 Walkin' along
Prin and Scoot shmoozeling...LOVE!
Second horse:
Name: Buddy (Disgustingly fitting)
Breed: APHA/AQHA
Gender: Gelding
Height: 15.2
Color: Red Roan overo paint, big wide blaze
Horsenality: LBI/RBI (I say RBI only because he seems "lonely"...)
Buddy is...well...a brute. He was an interesting horse to load today, not because he fought particularly hard, but because he was so quietly and sullenly persistant in saying "NO!" Buddy is a pretty typical LBI, big, brutish, pushy (he sticks his shoulder into ANYTHING and PUSHES) and is kind of a punk. Did load after almost 2 hours though, again, no force, no impatience, he loaded 4 times fully and confidently before I asked him to stay in, and he rode quietly.
The sad thing I did see in him today is when we got him into the pasture, how just...well, unloved he is. Prin, who absolutely FELL IN LOVE with Scoot, literally beat the crap out of him, and wouldn't let him come near her. Poor guy ran the fenceline (even with two other horses in the paddock with him) screaming for the others. I have yet to play with him (wanted to give him the night to settle in a bit) here are some observations:
-kind of a loner, though not by choice
-pushy as sin (I've NEVER met a horse this bad about it)
-curious about other horses
-defensive when it comes to being pushed
-evasive but a "closet curious" about humans type of horse.
He'll be interesting to try to partner with because he's kind of disinterested. Looking forward to the challenge. Pix to come of him as soon as I remember to charge my camera battery. He's a very handsome, beautiful boy.